Artist Statement
Growing up as a Greek American has significantly influenced the way I experience the world around me. Caught between two separate existences, I find myself navigating to capture the diaspora of my blood and to present the connection I find between personal and social structures. The combination of traditions and life in contemporary society is the departure point to my work. By manipulating the mythologies of my cultural background, I explore the distance that Western Civilization finds itself from its inception, and the consistent and reoccurring cycle that is inevitable. Handling materials that have a direct lineage to custom and tradition, I orchestrate an arrangement that exposes not only a relationship, but the irony between antiquity and modernity.
While I explore my identity as a woman, daughter, wife and mother through form and materials, I discover a generational disconnect and search to re-establish a link by creating a conversation that mimics the distance between the past and my present
.
Powered by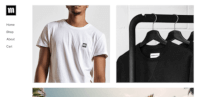 Create your own unique website with customizable templates.